100th Anniversary Council Camporee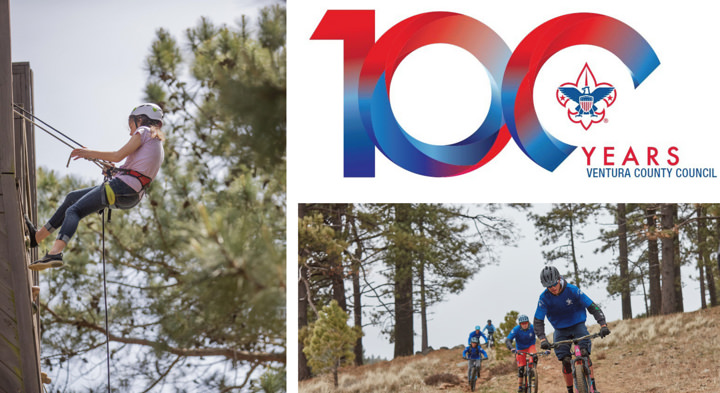 Mark your calendar! Camporee has been rescheduled for May 20 - 22, 2022.
Registration is now OPEN! ALL REGISTRATION MUST BE DONE IN THE UNIT ACCOUNT THROUGH TENTAROO WITH A TROOP NUMBER REFLECTED IN THE REGISTRATION. If you received a refund from 2021, you will need to re-register. Those that didn't request a refund, please email Andrea.mcclellan@scouting.org and she will forward your registration to 2022.
If you need your login or have questions, please call Council at 805-482-8938.
Even more great activites and events than previous planned! Watch for the announcements and options to enhance your 100th Anniversary Camporee Adventure.
***************************************************************************************************************
Friday Night Cantina
Chess, Astronomy, Music/Karaoke, Performance/Theater/Skits, Patch Trading, Cracker Barrel, Leatherwork/Wood Carving, Role Playing Games/Board Games/Cards & STEM.
Saturday Events
CLIMBING WALL IS UP AND BETTER THAN EVER, Lashings, Knots, String Burning, Bucksaw, First Aid, Survival, Orienteering, Fishing.

Obstacle Course/Spartan Race & Climbing Wall.

Rifle, Paintball, Archery, Tomahawk Throw, Knife Throw.

Sports Skills (aka soccer or football, etc), Golf skills, Canoe Portage, Water Bottle Launch.

Dutch Oven

Mountain Bikes
Shooting Sports
PLUS many more competitive, non-competivite, FUN and NEW experiences! Register today!
WEBELOS are invited for ALL SATURDAY EVENTS. This includes all the activities the SCOUTS BSA Troops participate in and WEBELOS are FREE!